In this post, I will be discussing what makes Kershaw Leek so special and what made it earned so much goodwill and good name in knife industry that it's still popular. As Kershaw Leek was launched in 2003 and I m writing a review about it in 2020, meaning reviewing it after 17 years. Given you may have read so much about it previously but I am coming up with new perspective.
Little History of Kershaw Knives
As many knives enthusiastic know and may remember that Kershaw Knives which became a powerhouse of pocket knives in US market with high gross sales and USA made. Peter Kershaw, who was formerly from Gerber Knives started his own venture and named it Kershaw Knives given in 1977 it was bought by KIA Group which moved its manufacturing to Tualatin, Oregon.
Where Kershaw Knives are being manufactured
As of now, some of Kershaw knives are manufactured in China & Japan which are shipped here in USA but still there so many knives produced by Kershaw Knives till date which are USA MADE. And as I am reviewing Kershaw Leek, so it's also US-made knife. So, let's begin with Kershaw Leeks Review with specifications. They are being sold all over internet and You can find Kershaw Knives for Sale with Chicago Knife Works all latest Kershaw knives as well as old ones.
Specifications of Kershaw Leek
Before going further with Kershaw Leek Review, I just want to tell that Kershaw leek variants are 30 in terms of colors, few have serrations on the blade, others have different blade material,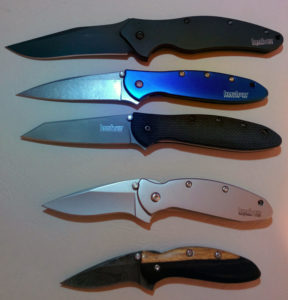 handle material and even blade finish is different from others. But overall, size and options given in this pocket knife still remains unbeatable.  I'll be discussing Kershaw Leek 1660.
Blade length: 3.0 inches
Overall length: 7.0 inches
Closed length: 4.0 inches
Weight: 3.0 ounces
Blade material: Sandvik 14C28N
Handle material:Stainless steel
Locking mechanism:Frame Lock
County of origin:USA
Kershaw Leek Review
Kershaw Leek Review – its Name
A knife with name of a Vegetable is so popular among Kershaw Knives fans, you will find so many people who bought it and even recommended it. Before you read Kershaw Leek Review, you should know that it's been designed by "Ken Onion". Kershaw Leek has been sold and is still selling like hot cakes from its launch till today. It gives tough time to its competitors like Spyderco knives, Gerber Knives & even Cold Steel knives.
Paper Light in Weight
Kershaw Leek got famous and is still is because of its size. Like it got 3" blade and when close the knife turns to be 4". The weight is just 3 ounces or 85 grams which is almost same weight of a printing paper. Therefore, there is no double about saying that Kershaw Leek is paper light. Yes, it is. Believe me.
Slimness (Slimmer the better)
Personally speaking, it's such a slim pocket knife, if you put it in your pocket, you hardly feel that it's in your pocket. It's among the slimmest EDC in market. Without clip its just 0.4" thick, by adding a pocket clip with it, little more thickness is added but its marginal to be honest.
Reviewing blade of Kershaw Leek 2020
While reviewing blade of Kershaw leek, I'll be discussing its material, shape and so on. So, first things first – the material
Blade Material of Kershaw Leek
Blade material of Kershaw Leek is 14C28N, or more detailed name is Sandvik 14C28N.  It's very hard crystalline stainless and Sandvik is the company manufacturing it. Best part of this stainless steel is its very hard, once sharped lasts long (best part for any pocket knife) and yes it has good corrosion resistance. Frankly, the retention of blade sharpness is major issue and with the Blast finish (silver touch), corrosion resistant means lesser patina / rust on knife in long term.
Shape of Kershaw Leek
Blade shape of Kershaw leek is more of Wharncliffe knife style, with straight edge and negligible belly. Tip of knife is narrow as we normally have in Wharncliffe knives.  The neck or top part is tapered which is even clearly visible in the pictures. Basic problem with Wharncliffe knife is that its tip snaps off it pressure is applied. I have seen a picture on Knife Informer in their review which I m also showing as under.
Thus, such a blade with its material (Sandvik14C28N) is robust, good but being a Wharncliffe, tip snapping of is a major problem. So, you are planning to buy one, make sure during use do not put unnecessary pressure on its tip. Because in sheepsfoot blade & Wharncliffe blades, their tips are not sharp at all by default.
Reviewing Kershaw Leek's handle

Kershaw Leek handle is manufactured from 410 stainless steel having bead blasted finish. Again 410 stainless stands for corrosion resistance and known well for its hardness as well. I like Kershaw Bareknuckle handle as compared to leek. There is a lanyard hole at the end of handle as well
Problem with Handle
The main problem with handle is "ITS SLIPPERY", and if you need to apply force on during a task, it's a big problem. It looks good with all bead blast finish from tip to end but if using it, Kershaw Leek's handle slipperiness is a major issue. If they have textured the COIL, it would be AAA for it in terms of its enhancing handles look and definitely the feel. Please keep yourself safe while using it as safety comes first.
Reviewing Kershaw Leeks' Pocket Clip
With said earlier that its pocket knife, so definitely I cannot miss reviewing pocket clip. It has option for right-handed users and left-handed yours. As the pocket clip can be adjusted but you have to flip the knife upside down. Its small in size but whatever you do, jumping etc., it doesn't let go your pocket.
Deployment of Kershaw Leek
Remember its designed by Ken Onion, he used Kershaw's patented mechanism also known as SpeedSafe®
SpeedSafe Mechanism yet can be made Switchblade knife
Kershaw Leek works on SpeedSafe® Assisted Opening mechanism, making it to open with ease by simply pushing thumb stud or pulling the flipper. The deployment of the blade is easy and smooth but its not that easy making it a switchblade or automatic knife.
So, don't confuse it with switchable blade. As Switchable or automatic blades are illegal to carry in many states. Why I am saying this? because by removing the spring, you easily make it switchblade and personally its not a great idea.
Leek's Tip Locking Mechanism
It's a frame lock knife, in which the handle moves behind the blade to lock itself during use. The locking mechanism works well, and lock doesn't open easily in the pocket. Lock doesnt open automatically, once in place due to Tip locking mechanism. Tip Locking mechanism is great for safety.  Its smooth & safe to open and close the Leek.  As you can see in the picture to your left, you can lock the knife after using with easy. this is the beauty of TIP Lock in this knife and i really liked this feature.
Concluding Kershaw Leek Review 2020
Kershaw Leek is a great Pocket Knife. Simple, classy, light weight and sleep with perfect sliding into any pocket of your jeans, trousers or shirt. The slipperiness is an issue at times rest is good. I really like it and loved using it as compared to Kershaw Launch 4. Its till a must buy and must buy EDC knife that's what made me write about it since its been launched since ages.
Disclaimer: This Article is contributed by Salman Qadeer, who is owner of SQ Expertise working professional and outdoors hobbyist .His love for knives and knowledge lead him a contributor. All Opinions shared are subjective. Chicago Knife Works takes no responsibility of any claims